Recently, I designed an 8-page Jewel-case styled CD Sleeve Design for an American band named The Sunrise. They are a Contemporary Christian acoustic and electric rock band, and the name of the album is "We Have Not Heard".
In my previous posts about CD's that I have designed, I've gone through the process via explanations under the CD design images. In this case, however, I've made a short video about the design, which is available to wat
ch at the end of this post. Here's a few images of the design, and then onto the Video…
CD Sleeve Art Gallery: The Sunrise
Above: These was a couple of early sketches of the proposed design. I originally draw some mockups in a Moleskine, then scanned them into my iMac before producing a couple of rough illustrative visuals (in the circles) to show the proposed style of the CD. These two images formed part of a PDF for the first set of proofs.
Above:

Front Cover (with severe Sun-reflection in my garden─whoops!).
Above:

8 Page Booklet Design, pages 2 and 3.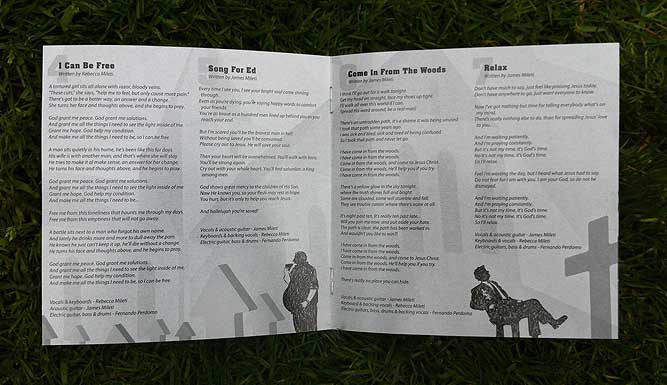 Above:

8 Page Booklet Design, pages 4 and 5.
Above:

8 Page Booklet Design, pages 6 and 7.
Above:

This shows the inside of the CD Jewel Case, with the [mostly] white CD set onto a Black & White Tray Card.
Above:

Back Cover Tray Card (again with severe Sun-reflection).
★ For more information on The Sunrise, please head over to their website. Also you can listen and buy their album over on iTunes. Shown above a screenshot of the tracklisting.
Walk-through Video of CD Sleeve Design…
This short movie shows my latest CD Sleeve design, with hints, tips and explanations of process.
This was a really interesting project to work on. The design was very-much concept driven, and the band were fantastic at providing a detailed direction on how they wanted the CD design to look. I love designing CD's, and I'd like to continue doing so as long as the format is available in the mainstream.